The 2nd SGA-R&A Level 1 Introductory Rules School held at Orchid Country Club on 3 July 2016 received over-whelming responses from both the members of the Society of Singapore Golfers and members of the public.
It is our honour to have Mr Ross Tan who is the Chairman of the SGA Community Engagement Sub-Committee to grace this event.
The delegates came from all walks of life with ages ranging from 9 to 76 years old. Majority of them are golf enthusiasts. It has a good composition of delegates attending this Rules School comprise of personnel involving in the following fields:
Golf Professionals from Golf Academies
Golf Executives and Members from Golf Clubs or Public Golf Course.
Staff from the Ministry of Education
Staff and Members from the Social Clubs such as The Tanglin Club, Chinese Swimming Club, etc.
Students from Primary Schools and the Singapore Sports School
All delegates said they enjoyed and benefited from the Introductory Rules School and many also suggested to have more of such Schools be conducted in future.
In total, 41 have attended the Introductory Rules School and all have sat for the examination. We have achieved a 100% passing rate in this cohort. The average score was 84% with 1 of the delegates attaining a high score of 100%.
The Society of Singapore Golfers as well as the delegates would like to extend their appreciations to the Singapore Press Holdings Ltd and the Eastern Publishing Ltd for their invaluable support and contribution towards the success of the Rules Education programme.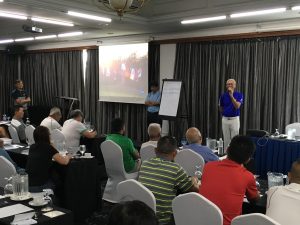 Picture Above: Mr Ross Tan, Chairman of the Community Engagement Sub-Committee, was addressing the delegates.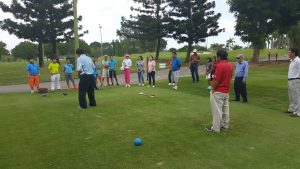 Picture Above: Mr Dennis Tan was giving an on-course demonstration to the delegates.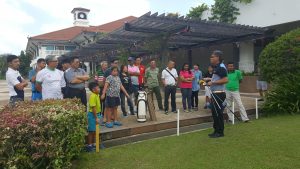 Picture Above: Mr Raymond Tan was giving an on-course demonstration to the delegates.